Typical Day at Oak Hill School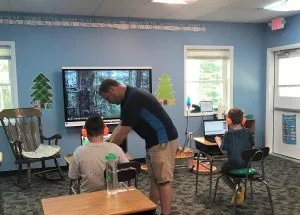 Arrival time is from 8:15 until 8:30. During arrival time, students have homeroom and a morning snack.  After homeroom, students begin their academic block until 10:30. From 10:30 to 10:45, students have a snack time and are allowed to play cards and board games with other students and staff. This is an opportunity for students have social interactions with their peers and use the social skills that they have learned. From 10:45 until 12:30, students have another academic block.
Lunch is at 12:30.  Since we do not have a cafeteria, students must bring their lunch.   Lunch is immediately followed by choice time at 12:50.  Choice time is a reward time each day.  Students that have earned a certain number of points during the day are allowed to partake in activities based on which level they are on.  Students end their day back in homeroom while waiting for their bus to be called.  Dismissal begins at 1:30.
Each grade has designated Common Core academic times.  During these designated times, students are not pulled out of class for specials.  Specials include weekly physical education and weekly art class.  Technology class is offered to students in grades 4 and up.  Occupational therapy, physical therapy, speech, and counseling services are provided depending on students' Individualized Education Program (IEP).